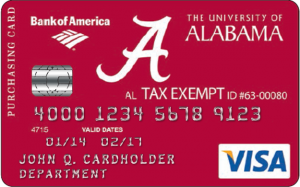 Moving forward, all new and renewing P-Cards will be issued with Chip and PIN technology.  This type of card is very common in many other countries, and is rapidly being introduced in the United States as well. 
Once you receive your PIN in the mail, your new Chip and PIN card will follow soon after.  All Chip and PIN cards will have magnetic stripes so they can be used both in the United States and abroad.
Tips for Protecting Your Card
Memorize your PIN.
Do not write your PIN anywhere.
Do not provide your PIN to anyone.
Bank of America and P-Card Services will never ask you for your PIN via email or through a website.  If you are asked to provide your PIN, decline and call us.
Cover the keypad when entering your PIN into the point of sale terminal
FAQs
What information is stored on the chip?
Will I be able to use the PIN to get cash?
Do I have to wait until my current card expires to get a Chip and PIN card?